Ever wonder what goes into one of these photos for Fresco? Come behind the scenes of "the shootout" to see a bit of the process!
The first thing we needed was a location. Frank suggested an abandoned feed mill here in Madison, and I agreed that it seemed like a great place. One day, I picked up Julia from school and we headed over to check it out.
There was a lot of graffiti, and on three sides of the building there was actually pavement… that wouldn't do. On the last side we checked out, there was gravel – perfect! I snapped a few shots of Julia and did a quick sepia treatment to send to the Fresco team: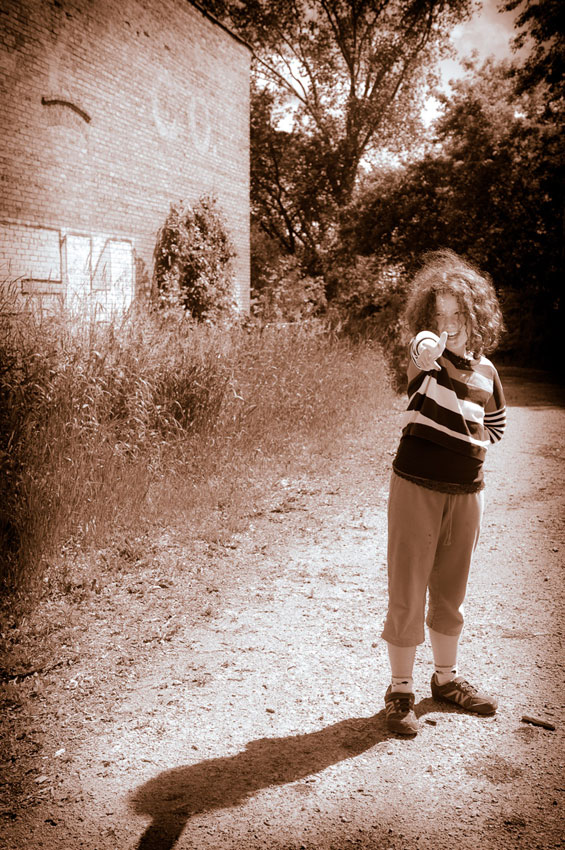 They liked it, so we were a go!
I knew that the singers would be wearing cowboy hats, and that I was going to have to do something to avoid losing Rachel's amazing eyes to deep shadow. I wanted to keep things looking "real" and didn't want to light any more than I needed to, so I brought a portable flash and put a craft foam snoot on it. The "snoot" is that long tube coming off the flash; it does pretty much what it looks like it would do: constrains the light to a small area.
In this shot, the light is too bright, but you can see where it was in relation to the fighters: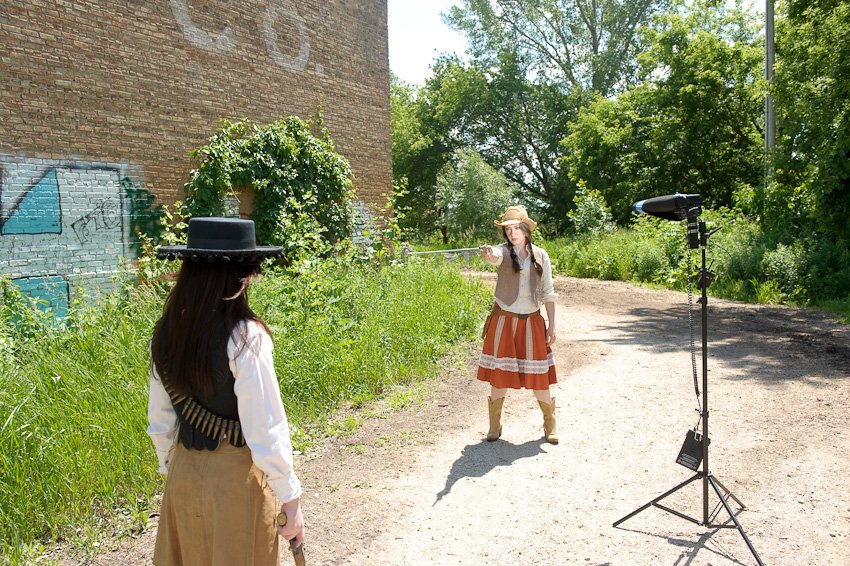 Once we got the light level worked out, it was time to get the positioning right. I wanted to catch Rachel's hair flying out, and—since her costume had a skirt—I wanted to get that looking dynamic, too. We spent some time working out how she would spin, and how far down she would crouch, and went about setting the light's height properly for that.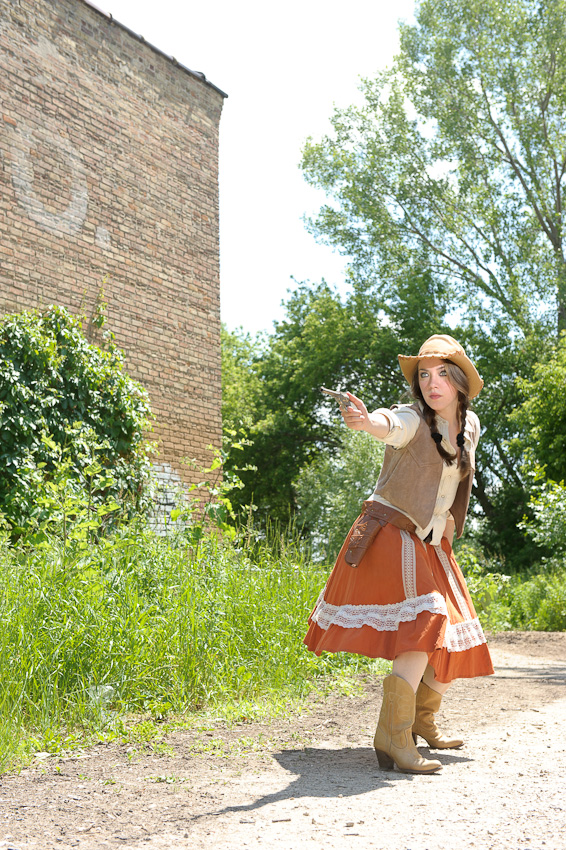 Here, you can see that the light is too high – this is one of the first shots with the motion added, and it's still set to her standing height.
Just a note here: in order to get her face lit by a heavily snooted light—which has a very small, focused beam—Rachel had to spin and crouch consistently over and over again. And she did. She just nailed it. I am so lucky to work with such multi-talented people!
Here is the shot we ended up using: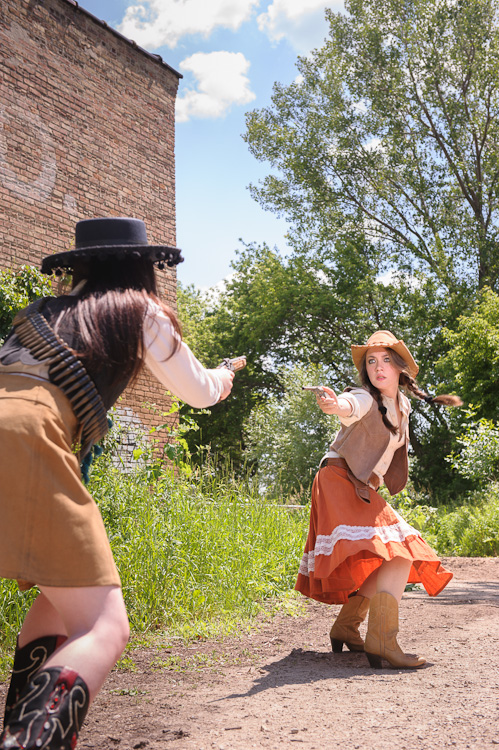 Notice the different shooting angle here, compared to the shot with the lightstand in it. To get this angle, I am lying down in the gravel and shooting up at them. If you've ever wondered why I dress the way I do, this is it. 365 days a year, I wear crummy clothes just in case I may need to lie in gravel. Yup.
Ahem, so… still in Lightroom (the most kickass bit of photo software ever, not that I'm biased or anything…), I converted the image to the sepia treatment and added the vignette.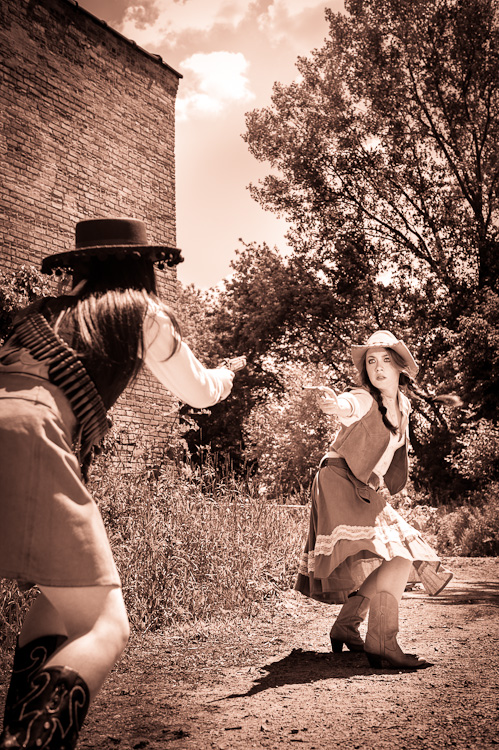 Then the image makes the trip over to Photoshop in order to get the weathered paper texture, and the muzzle flash added. Because I'm a massive nerd, I found a website of muzzle flashing from various guns and used an appropriate one based on the pistol she's using. Because that kind of level of detail matters to absolutely no one, but that's just how I roll, baby!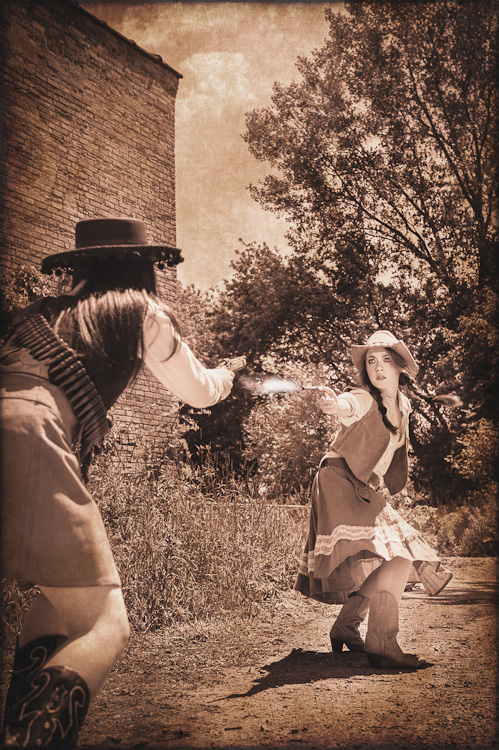 So – that's how "the shootout" came together. I hope you enjoyed this little write-up, and I hope to see you at a performance of The Good, The Bad, and The Divas!
Leave a Comment