I love working with Fresco Opera Theatre. Love love love it. Their shows are always amazing in every way: great performances, great concepts, and—the cherry on top for a visual guy like me—great staging, costumes, and props.
I recently did my third promo shoot for their upcoming Big Top Opera show – mark your calendars for September 30th and two shows October 1st, tickets go on sale August 29th.
Each poster has raised the bar from the last one; they take the promos as seriously as the shows. Great concepts, great costumes, and I can't say enough about the great models; Emily and Dom have spoiled me so much. Also, this time Fresco Board President Jeff Turk joins the fun!
And where do you shoot promos for a show called Fresco's Big Top Opera? Circus World, of course! Circus World was the headquarters and wintering grounds of the Ringling Brothers circus in Baraboo, which is now operated by the Wisconsin Historical Society and on the National Register of Historic Places. I don't know how they got clearance for us to shoot there, but I was seriously pumped.
We've been meaning to take the kids to Circus World for a while, so hey: fun scouting trip!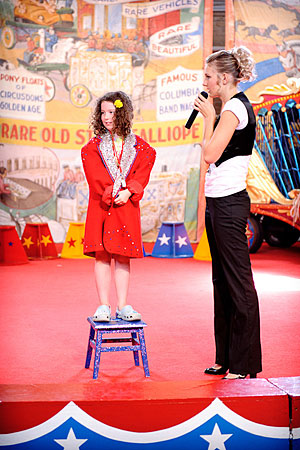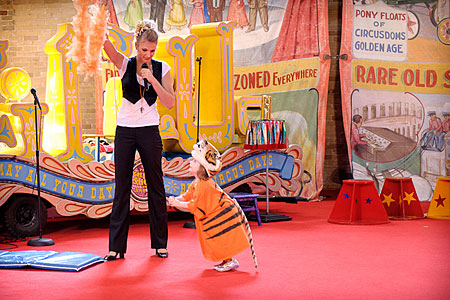 These aren't photos of my adorable children. They're very serious location scouting shots.
As I was packing my gear for the shoot, the question wasn't so much, "should I bring [whatever] or leave it?" as much as it was, "should I put it in a case that I'll carry in or leave it in the car in case I need it?" As I was putting all the "maybe" stuff in the car, I realized that even if a location shoot was just across town, I wouldn't come home to grab stuff, so why would this be different? It really wasn't, but I still brought everything but the kitchen sink. Just because.
When I got there, the rest of the crew was already there, getting into makeup and costumes. I normally try to shoot some of the behind the scenes stuff, but instead, I took off for our first location to get my gear set up and ready to go when they arrived.
I went across the river to the sideshow tent, which had a nice open spot and a random unicycle prop (I did make some scouting shots here, but they're not interesting enough to post). We shot here until we worked the possibilities pretty thoroughly.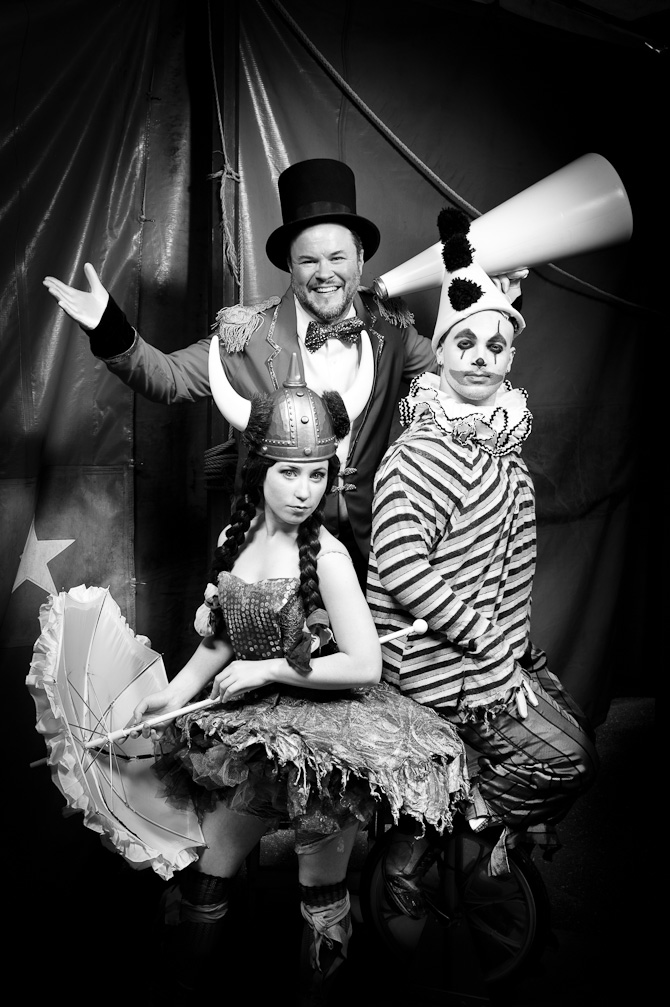 As it turned out, by that time the Kids' Interactive Circus was over and we could shoot in their ring, which was in the Ringlingville Elephant House. (see? those were scouting shots.)
We packed up and moved to the Elephant House. While I was getting set up, Mel shot a nice set of candids—posted on Fresco's Facebook page; go "like" them—that show more of the Elephant House.
The kids were really excited that we shot here – they loved seeing the familiar backdrops and props.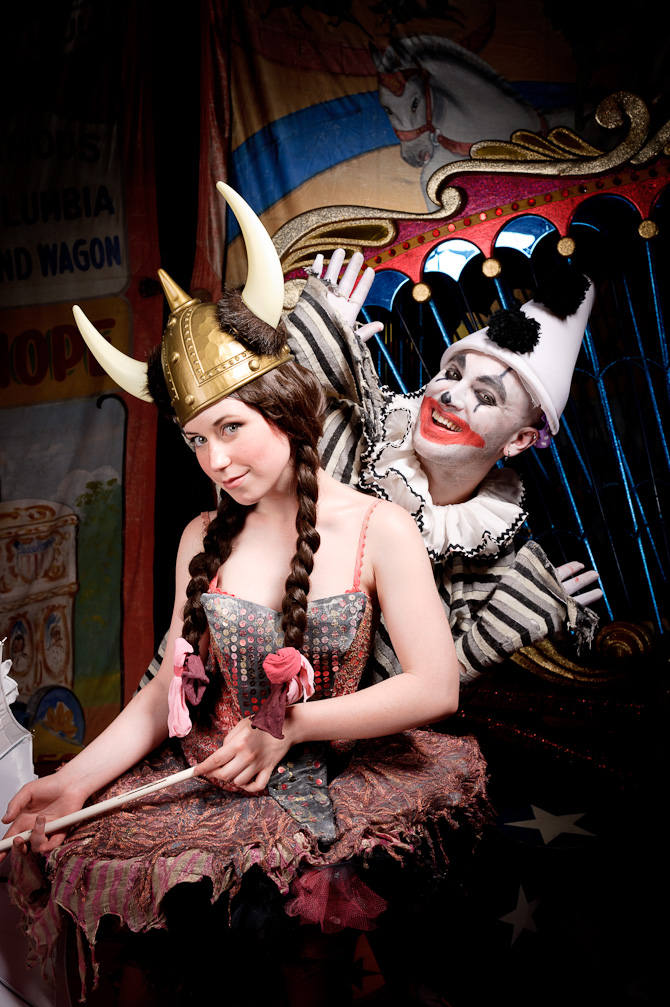 I don't normally do a ton of post-processing, and I usually don't blog about it. But this time, I really wanted to give these shots a look that would call to mind circus posters.
My favorite part about Circus World is the huge gallery of vintage circus posters. Many of them are crudely drawn, and virtually all of them are just dripping with hyperbole, but some of them are just gorgeous. They're simultaneously bold and delicate, and many of the ones that really draw me in have these amazing, almost photorealistic paintings blended right in with simple line drawings.
I had already suggested that look a little in the lighting, but I wanted to really turn it up, and set out to give these shots that same kind of bold yet faded color palette, and combine that delicate photo/painting look. For good measure, I also "aged" them a bit.
I usually do all my post in Lightroom, but I actually fired up Photoshop for these. It was fun to get out of my comfort zone a bit.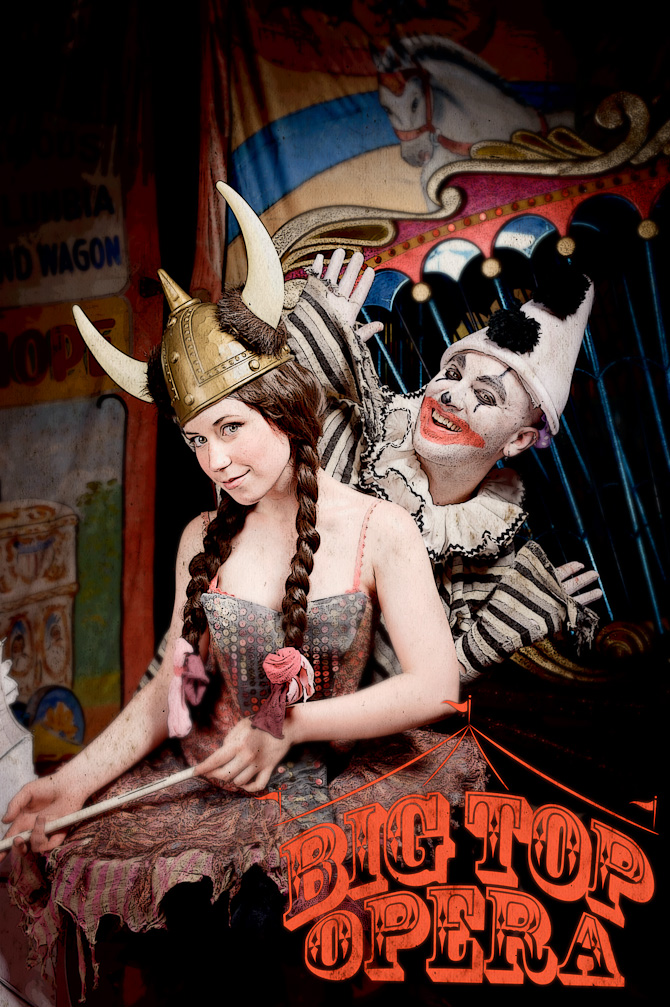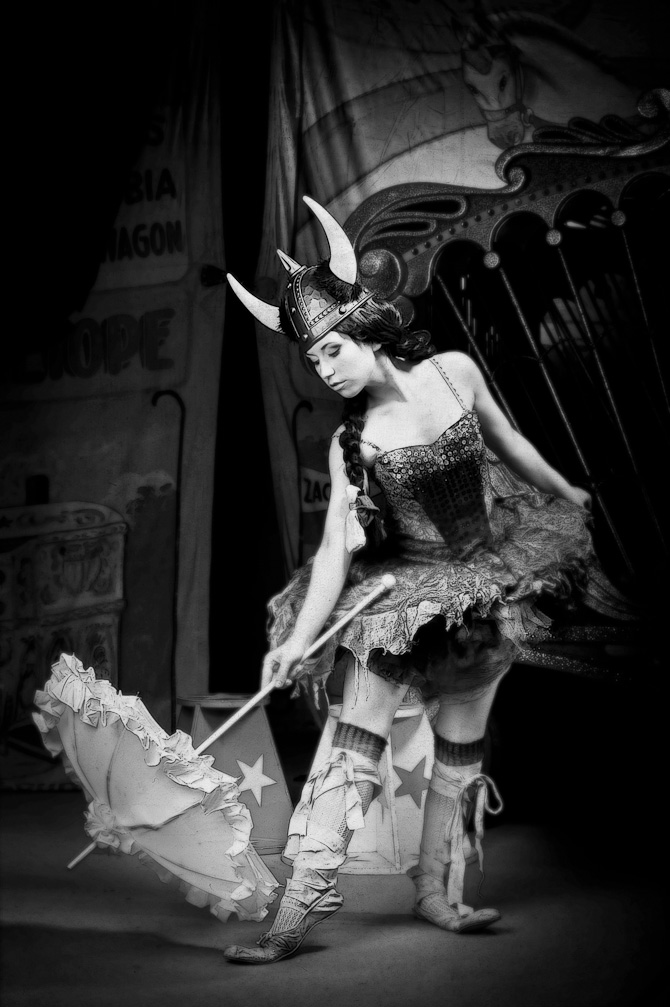 I'm always sad to lose the detail when scaling images down for better online viewing, and this time, scaling them down really loses a lot of the poster effect. Here are some details: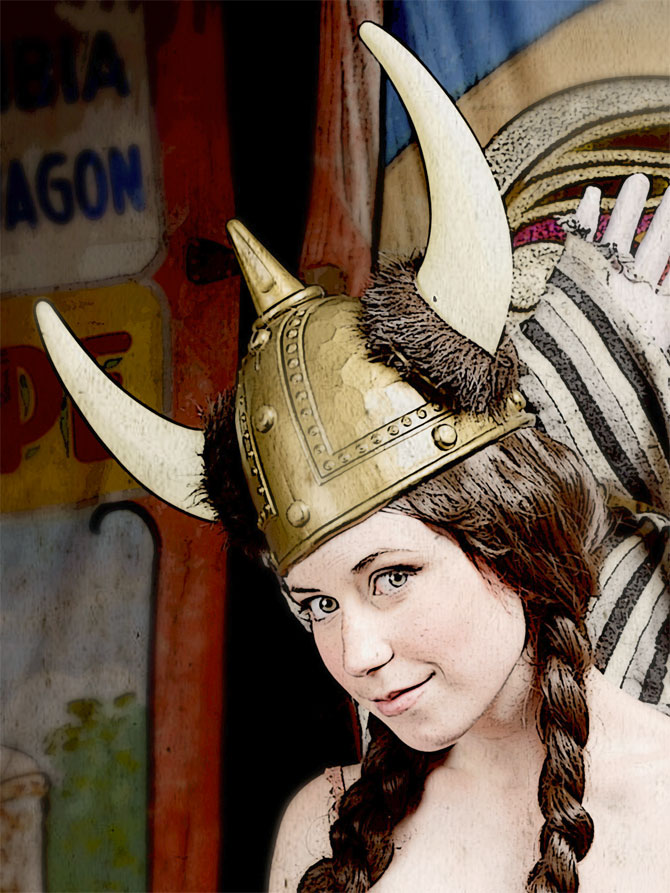 Em based her makeup on a specific poster, so I tried to make her look as much like that poster as I could.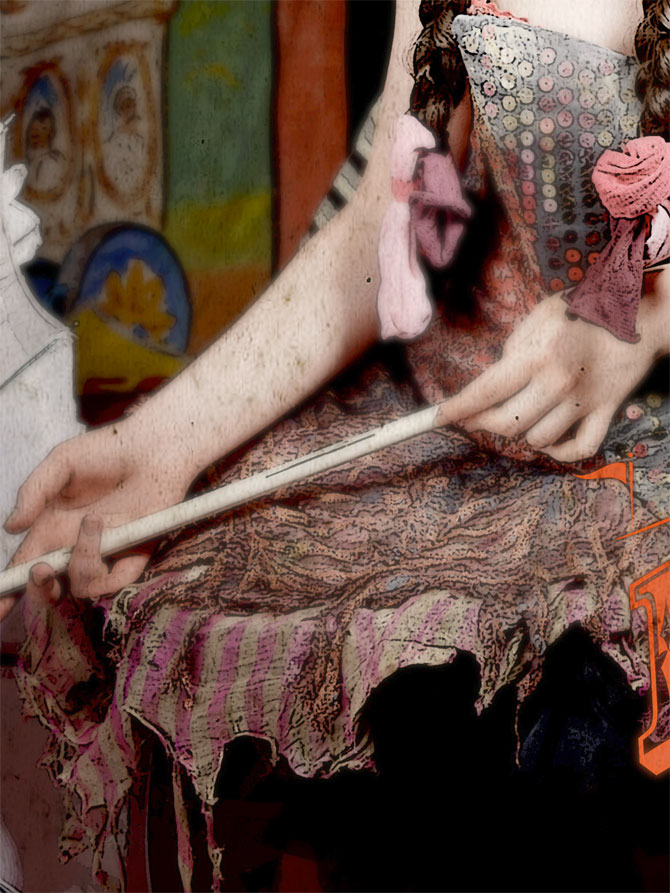 Em's elegant hands. I didn't have to direct her to do this; she just brings it in every shot.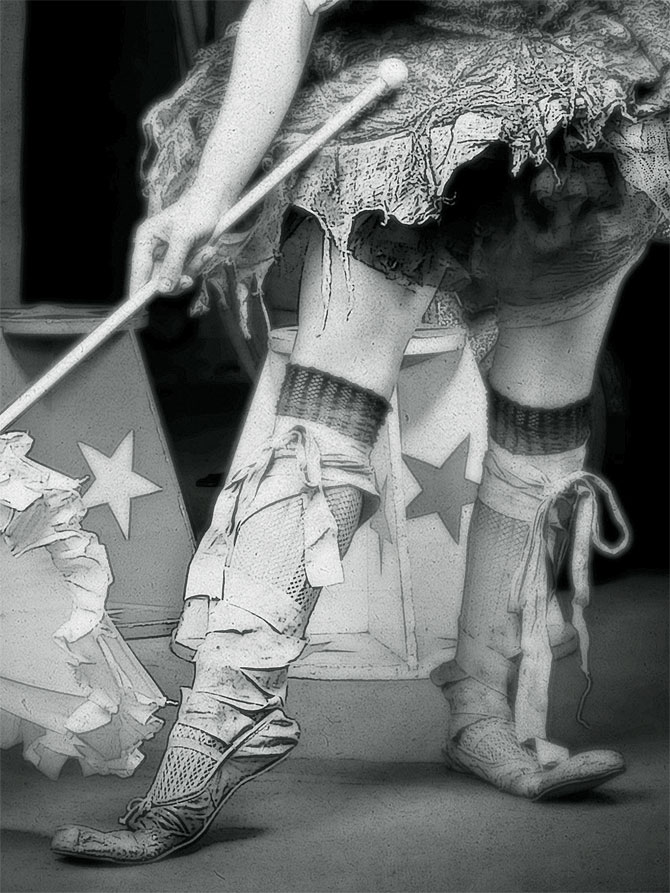 Check out that costume!
This is going to be a great show – I'm really looking forward to it!